I was starting to get damp in my old drysuit and had patched a couple of holes that were leaking whenever I practiced self-rescuing so decided it was time for a change. As an all-weather year-round kayak angler there was really only once choice from the Palm range for me and that is the Aleutian suit. My criteria are for something hard wearing (for the twice weekly abuse) and visible (so the motorised boats can spot me at anchor amongst them) with useful pockets (for spare fishing traces) and a hood (for wind and rain) so there was really no other choice in the range … which is fine by me as I hate making decisions.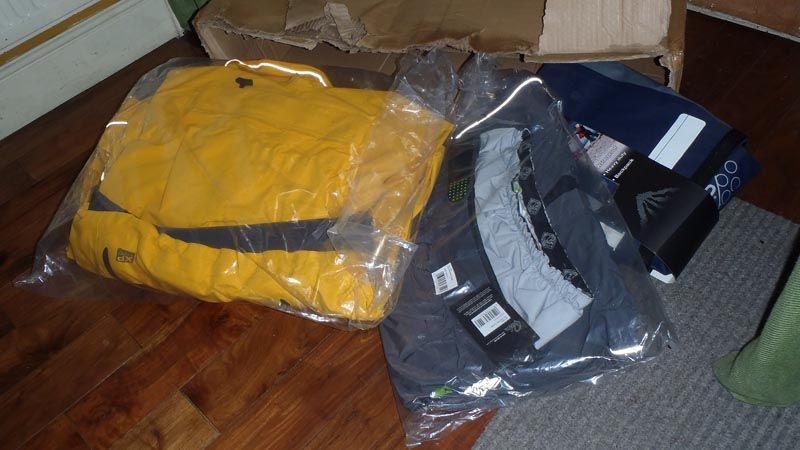 So, it arrived and was tried on, it fitted fine even with my thick winter socks and diver's undersuit beneath and with my Kolas pulled over the feet and up inside the gaiters I was comfortable and able to move freely. Good, now to wait for a break in the weather …
With high winds and heavy seas battering the whole country I was fortunate in being free to take full advantage of a break in it, quite literally I'd be launching into the eye of the storm with a couple of my regular fishing partners, one who, like me, works nights and the other on his break from working offshore. With good catches being reported a few days previously by the local charter fishing boats we had high hopes for the day. James immediately noticed the difference when I stepped out of the car. My four year old faded drysuit had given way to an eye-searing blaze of saffron and he commented on how bright and shiny I looked. I'd driven to the launch in it, always a good test of movement and with my kayak off the roof and on the trolley we headed down to the beach. Okay, so it's winter but wrapped up beneath I normally break a sweat; not this time. I'd be launching nice and dry. I paddle a narrow, low-seated sit on top with scupper holes in the hull for drainage. This lets water in from top and bottom from the moment I launch through the first wave hence the need for a decent drysuit. More comes in while anchored in tidal flow so I'm generally seated in water for a few hours at a stretch. With my back to the wind the insulation of the material is also of great benefit at reducing windchill and this is where the hood comes in useful too though it's usually kept tucked away until later in the session.
We dropped anchor amongst nine charter and pleasure angling boats and, with feet over the side, began to fish. Three knots of water were rushing past the hull, over my Kolas and the legs of the Aleutian and everything remained dry and warm.
Five minutes later and my rods were banging away; three cod came aboard in a little over twenty minutes so that last part of the fisherman's requirements was proven. The drysuit has good luck!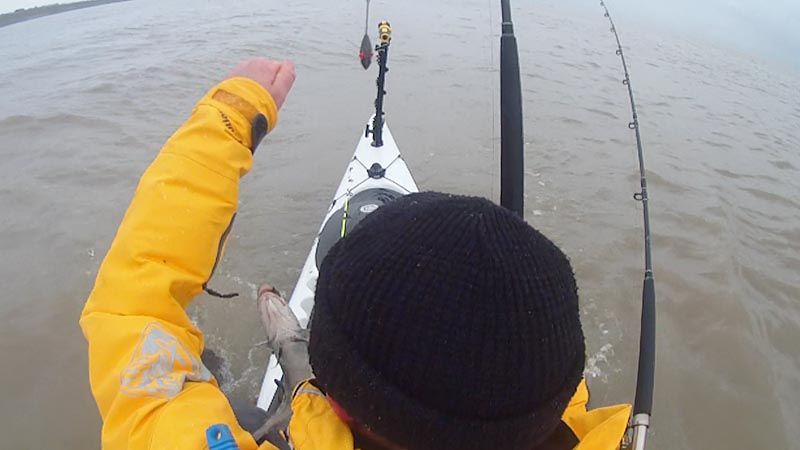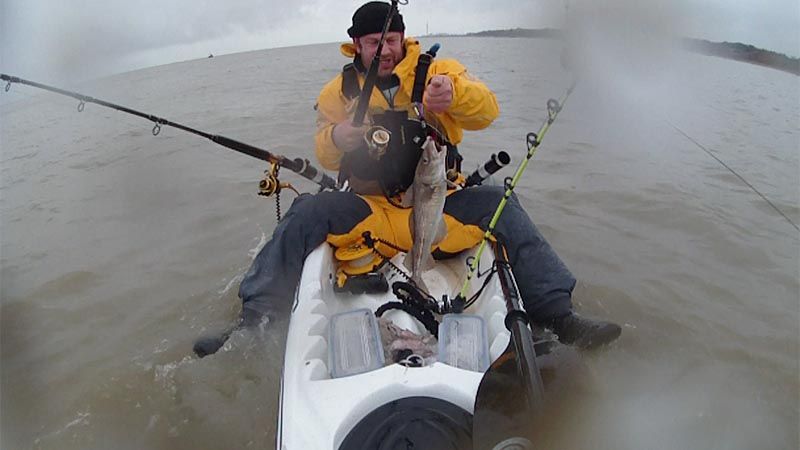 We gave it five hours and after paddling a mile north to chat to a friend on one of the boats and then back against the tide we came back in; I was dry as a bone. The Aleutian had passed the first hurdle. Waterproof, breathable, flexible and comfortable. And I had dinner.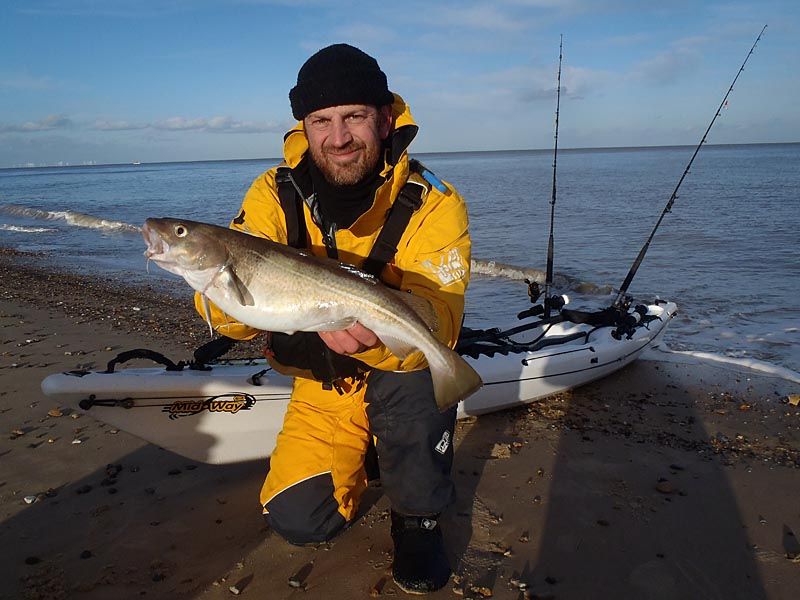 Three days later we had another weather window so James and I headed back out. An eighteen knot offshore wind and a four knot flow running for the first couple of hours at anchor ensured another testing day. A squall came through and the fleece snood that I'd found in the chest pocket came in very useful keeping me nice and cosy as I paddled out and then sat there.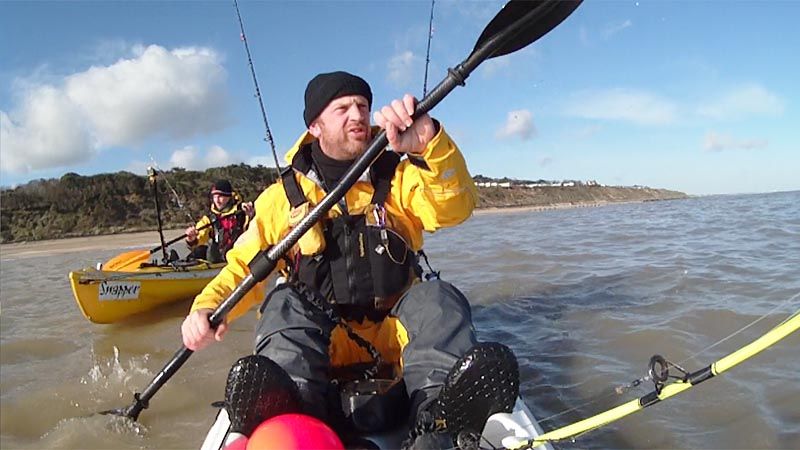 A small feature – but a feature nonetheless – that is of importance to kayak anglers is storage. With limited space on my kayak the small waterproof pocket near my left cuff looked ideal to store a few fishing traces and so it proved; on this day I snagged and lost three sets and with space to easily store double that amount, in the dry, it showed itself to be a really good addition to the suit. You can see it in the photograph, if you can keep your eyes off the fish!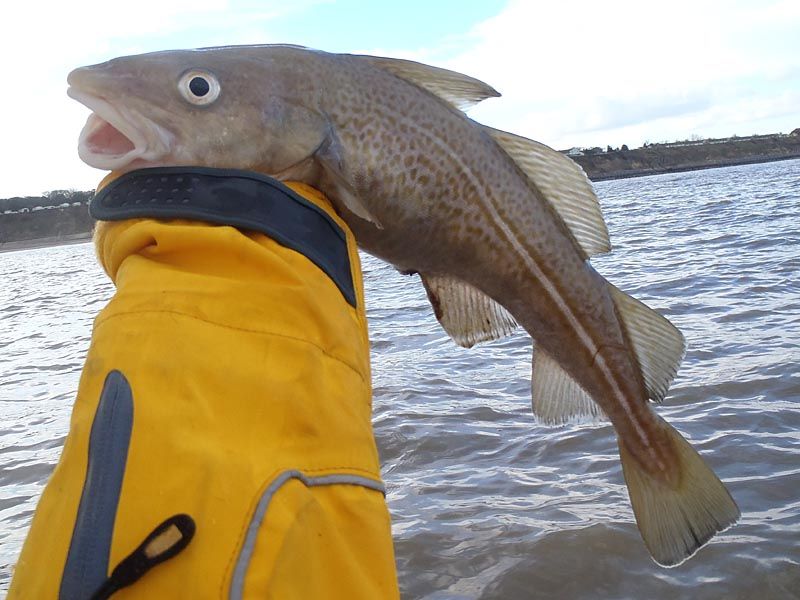 Another squall came through and this time the hood went up, gratefully. The storm cuffs were pulled down over my hands to keep the wind off and I sat it out, waiting for more cod to come on the feed; I'd not yet caught but, comfortable enough, dry enough, I didn't have to run for cover.
Lucky really as they came on the feed the moment it passed and in no time I had another trio of North Sea cod. I figured that would do for the week, twelve hours of February fishing and half a dozen cod, the biggest of which would make a hearty meal for the whole family, is plenty ... and I was satisfied that I'll be fine in any conditions.